Composition
Recent Work
Work which I haven't released formally yet!
Click the image corners for previews!
Days Past Gone Today

In early 2020, I tasked myself with making a song a day. It had no predetermined end but ran for a good seventy days, which is almost 20% of the year! I'm proud of myself for that, and here are the best results of the project. Some pieces are recently reworked to make them feel more high quality.

RE:KIWAMI

Art by @Loomfus

A project where I took two clips from the game Yakuza Kiwami 2, and rewrote the music for them. I took a fight scene and the into scene, and wrote two seperate tracks for them, an orchestral version and electronic version!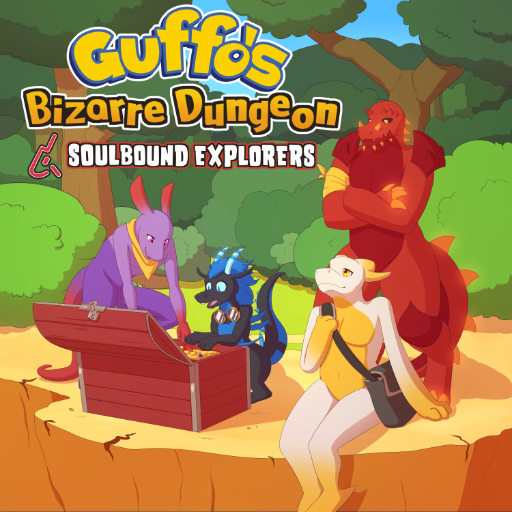 Guffo's Bizarre Dungeon: Soulbound Explorers
Inspired by games such as the Pokemon Mystery Dungeon series, this soundtrack takes you to the sounds of places ranging from quiet dungeons to dangerous battles!
Homestuck Work
A bunch of Homestuck "style" commissions/other types of work I've done! Includes character themes, fancomic stuff and strife themes!
Sound Production
While I don't do it as much anymore, I have a diploma in Music (Sound Production)! I've done some work with a band, and a local web-series.
Dance by Partly Cloudy

A single I did all of the audio work on, from recording to mixing! This was my first time working with the band!

What To Do by Partly Cloudy

An EP I helped record! While I had no hand in mixing or production, I recorded the tracks for Dance, A Thousand Years and Grandiose.

Gone by Partly Cloudy

While I didn't do the full mix, I helped lay down the base mix for this single.

Pressure Cooker

A YouTube cooking series, produced by CIT, for which I was a production sound mixer on! I handled all audio recording for interview scenes throughout the series.
Timeline
WHEN
WHAT
TYPE
2015, November
Album Memerino self released
Composition
2016, May
Album Goo Fueled Tunes self released
2016, June
Single Tectael self released
2016, September
Album Sunlight Drifter self released
2017, March
EP R E X self released
2018, November
Single Dance by Partly Cloudy released
Sound Production
2018, November
Album Guffo's Bizarre Dungeon: Soulbound Explorers self released
Composition
2018, November
Web series Pressure Cooker airs
Production Sound Mixer
2019, April
EP What to Do by Partly Cloudy released
Sound Production
2020, March
Single gone by Partly Cloudy released
2021, February
Album Days Past Gone Today self released
Composition
2021, May
RE:KIWAMI EP released